Christmas of 2008 we were at my husband's father's home for a huge family potluck dinner.
I think I was in charge of bringing chips. Or cups. Since I'm new to the family I believe they are breaking me in gently since Kendall's mom's and dad's sides both have around 40-50 people for any holidy "family gathering".
Kendall's step sister presented a tray of B with crackers to which I inquired,
"What is this stuff??"
And
stuff
replied, "Hello lover, my name is Braunschweiger. And I take tastebuds for a
spin
."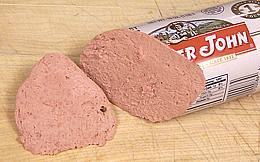 DO YOU KNOW WHAT IS IN THAT STUFF!?!??!!
It's like a spreadable
HOT DOG
! It's bits and pieces of
liver
with spices and SALT. Slap it on bread with mustard and cheese and the German folks
eat that stuff up
.
But oh dear, that stuff is good. It's my secret love affair. Strong southern women don't like funky things from overseas! We don't eat things with hidden vowels and silent w's.
Oh my this wonder Braunschweiger has won me over. And the worst part? Walmart carries it year round.
SAY IT AIN'T SO JOE!